Fun Group Paintball Events in South Jersey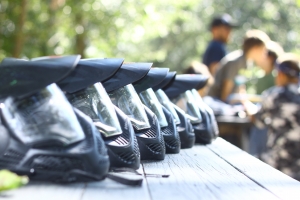 If you and your friends are looking for a new, exciting activity to try this fall, look no further than AC Paintball. Paintball is a great group activity to take part in with friends. Whether you want to celebrate a special occasion or just try something new, paintball is a sure way to get everyone together and have tons of fun. Those that are looking to maintain a healthy, active lifestyle will find paintball a refreshing alternative to the usual group activities of sitting around and eating. And if you're interesting in strategic online gaming, paintball is a great way to bring that to life.
For those that are brand new to the world of paintball, we'll give you some background: There are many different paintball games, styles, and field types that can provide an array of diverse experiences. The basic idea of each game is similar: try to shoot out members of the opposite team while avoiding getting shot out yourself. It will be tons of fun to strategize with the friends on your team while you work to take out the competition.
Groups can choose to play privately or combine with other groups for bigger games. We'll recommend the best game styles for your group size and skill level and you can choose to stay on the same field for the entire day or play on multiple fields.
AC Paintball offers comprehensive group packages for a hassle-free day of fun. We provide everything you need to play, including rental gear, equipment, and supplies. Experienced players are welcome to bring their own gear, but that is definitely not required. Trained referees will teach your group how to play and offer tips to make the most of the game. Group members will gain access to the clubhouse to serve food, present gifts if needed, and hang out in between games.
Here's just a sampling of group events you can host at AC Paintball:
Birthday parties

Graduation celebrations

Bachelor and bachelorette parties

Friend and family reunions

Team-building for college clubs and sport teams

Church or youth group events

A break from the shore while on vacation

Or a "just because" day of fun with friends!
AC Paintball is proud to offer fun, affordable group events and celebrations. We welcome you to learn more about group paintball below or schedule your game today.
Group Paintball Packages
All group packages include rental gear and equipment, unlimited air, 100 tournament grade paintballs per person, on-site transportation, private referee, and access to the indoor clubhouse to serve food or hang out in between games. All equipment is double-checked for safe operation before use. Bonus: One group organizer will play free in groups of eleven or more!
Morning Package: $29.95 per person
Play as many games as you'd like between 9 a.m.  to 12 noon.
Afternoon Package: $39.95 per person
Play as many games as you'd like between 12 noon and 4 p.m.
All Day Flex Package: $49.95 per person
Play as many games as you'd like between 9 a.m. and 4 p.m
Group Paintball Events for All Skill Levels
We welcome groups big and small and can accommodate all sizes and skill levels by offering a range of field types, obstacles, and games. Our speedball field is perfect for tournament style games of 5-20 players per team while our forest field is great for capture the flag style of 40 to hundreds of players.  If you have a smaller group, we can combine you with another group for more playing options or you can choose to play alone. At the same time, larger groups can split up based on skill level or game preference. Check out a little more about our fields below:
Red Dawn Woods Field: Play capture the flag style on this standard woodsball field. It is medium-sized and perfect for beginners or those that want a shorter game.
Blue Thunder Woods Field: Play capture the flag style on this large forest field. It offers two base camps of military-style tents stand 150 yards apart and can accommodate over 100 players. It's great for intermediate players interested in a longer woodsball game.
Black Ops Pentagon Woods Field: Play capture the flag style on a forest field with pentagon of military drop tank bunkers at the center. It is a large field that can accommodate over 100 players. It's perfect for advanced players that want an extended, strategic game.
White DMZ Woods Field: This is a mid-size forest field available for standard play. We are currently making plans for the White DMZ to feature our most challenging play on site with intense and impressive obstacles.
Speedball Field: This is a tournament-standardized field suitable for 5-40 players. Tournament style is played in a very small, open space with obstacles and bunkers throughout. Ideal for players that want a short, fast-paced, and high-intensity game.
Hyperball Fields: This is a smaller version of the speedball field that is suitable for tournament style games as small as 1-on-1.
Book a Group Paintball Game Today
AC Paintball offers affordable, comprehensive group events in southern New Jersey. Our facility is conveniently located on Route 54 in Williamstown, New Jersey. It is just off the Atlantic City Expressway for those visiting the Jersey shore, and only 40 minutes from Philadelphia. AC's fields are also easily accessible from many other places throughout New Jersey, Pennsylvania, and Delaware, including: Cherry Hill, Philadelphia, Gloucester Township, Vineland, Mount Laurel, Pennsauken, and Wilmington.
If you've got a group of friends that are ready to play, use this form to schedule a game for any day of the week. If you don't know too many people interested in playing paintball, we still encourage individuals to come on out. Walk-on hours take place every Saturday between 9 a.m. and 4 p.m.