Gifts for the Paintball Player
If you are close with someone that loves paintball or is interested in playing the sport, your gift options are endless. From stocking stuffers to big-budget items, you'll find something no matter how much you want to spend. Check out some of the best gift ideas for the paintball player this holiday season.

Paintball Clothing and Gear
Paintball clothing and gear is an excellent gift for new or experienced player. Dark or camouflaged clothing and many layers that allow for comfortable movement is ideal for the sport. Purchase items from any clothing, sporting, or paintball goods store. Some options include:
Thermal Under Armour
Dark or camouflage sweatshirts
Zip-up, waterproof coats that aren't bulky
Flexible Gloves
Beanie or hat
Waterproof boots or athletic shoes with traction and ankle support
The gear item that we highly recommend for any player is a thermal lens. This is a pair of goggles that are double-lensed and insulated to prevent fogging. A thermal lens is especially helpful to those that want to play in the winter. If you're looking to splurge, specially designed paintball jerseys and pants will also be sure to please.
HPA Tank
An HPA (high pressure air) tank is a great gift for someone that plays paintball often (especially in the winter). Most paintball guns come equipped with a standard Co2 tank. However, Co2 expands slowly in colder temperatures and often becomes delayed or jams up during the winter months. HPA tanks are an excellent upgrade to any paintball gun that operates efficiently and accurately during all seasons.
HPA tanks can be a bit of an investment, which is why we're sure any paintball player would appreciate one. Check out your local paintball store or favorite website to purchase.
AC Paintball Gift Certificate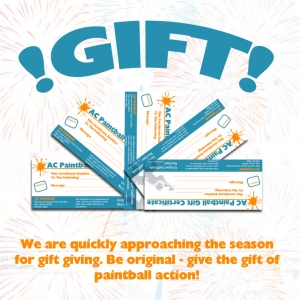 If your favorite paintball player is local to Williamstown, NJ, AC Paintball gift certificates can be purchased on our website and are the perfect (and convenient) choice. Our gift certificates allow you to purchase packages that include partial- or full-day field access, complete rental gear, unlimited compressed air, and 100 tournament grade paintballs. This an amazing choice for the new player or even someone that wants to try paintball for the very first time. With everything included for an exciting day of play, all they have to do is show up to the field and be ready to have fun. Prices range from $29.95 to $49.95.
For experienced players that already love ACP, the best deal is the gift certificate for a One Year Club Membership (only $29.95!) This would entitle the holder to discount pricing on field paint, 10% off all field admissions (except group rates), and 5% off all Pro shop purchases for an entire year. Another option is the Sunday "Full Access" Pass ($99.95), which entitles the holder to a full year of Sunday Day Flex Field Passes.
Insulated Cooler
Paintballs can become brittle and crack or shatter from cold weather and melt in the heat. For players that are just starting out, an insulated cooler is essential for keeping paint at the right temperature. During the summer months, this means loading it up with ice and keeping everything cool. During the winter, keep things out of the cold by ensuring the cooler is room temperature.
Check out any sporting goods store to find a soft, insulated cooler suitable for every season. It does not need to be designated for paintball. Let the player know they can pack paint and other small equipment in the cooler until they need to use them.
Stocking Stuffers
Grab some of these smaller items that every player will need replacements of eventually.
Microfiber Rags
Pods
Lube/oil for the marker
Heat packs
Squeegees