Tips for Building a Successful Paintball Team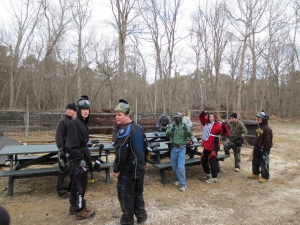 Creating a paintball team is a great way to socialize on a regular basis. Not only does it keep you healthy, but it keeps you happy as well. If you're thinking about creating your own paintball team, there are a variety of aspects to think about. If the task seems overwhelming, fear not, because AC Paintball is here to help. With these helpful tips, you can build a successful paintball team and have fun with your friends.
Finding Teammates
The first step to creating a paintball team is to gather teammates. Usually, when you decide you want to build a paintball team, you may just have a friend or two ready to join you. If this is the case, you will have to do some recruiting to build your team. When playing at AC Paintball, always be on the lookout for players to add to your team. You may notice a skilled walk-on who often plays at our facility. If you are interested, invite them to play with you. If everything works out, they will join your team.
When adding people, try to find players that already have or are willing to buy their own equipment. This shows commitment to your team. If you are thinking about adding someone new to paintball, they can rent AC Paintball's equipment to give it a try. This way they won't be wasting money if they decide not to play.
You will also want to make sure that everyone plays well together. Before you invite them to join your team, give them a test run. See if they have good chemistry and mesh with the rest of your team. It is a good idea to add people with a variety of different skills. You will want a good mix of different playing styles to balance your team. This way you will always have someone to call on when you need a specific skill to carry out your plans and win the game.
Organizing Your Team
Next, you will need to organize your team. You need to decide what your group is going to be about and what your goals are. Do you want to compete professionally or are you just looking to have fun? After that, you will need to create a schedule. Find out when everyone is available. Then figure out what dates and times will allow the majority of your team to attend. Have some substitute players ready on call in case some of your teammates can't make it. You may also want to consider making team shirts or uniforms.
Choosing Roles and Responsibilities
Your team will also have to choose roles and responsibilities. Try playing a few games at AC Paintball to assess everyone's skills. Once you learn what everyone is good at, start assigning roles. Fast runners make good frontmen. Accurate shooters make good snipers. Players who are heavy-shooters make good backmen and defensive players. Well-rounded players make for a good infantry. You may also want to think about what strategies are best to use with the players you have.
Practice
Once your team is organized and have their positions, you can practice at AC Paintball. Practice is the best way to specialize in your position and learn to work with your new teammates. The ability to communicate well and work with your team is a valuable skill in paintball. If you know what to expect from one another, you will better know how to adjust your game to each situation.
Another good way to bring your team closer is to get together outside of AC Paintball. There are plenty of fun places to go in southern New Jersey. You can go out to eat, try a different sport, or just hang out at someone's house. The more you get to know one another, the more you will learn to trust each other. The more you practice with each other, the more successful you will become.