AC Paintball Strategies for Rainy Days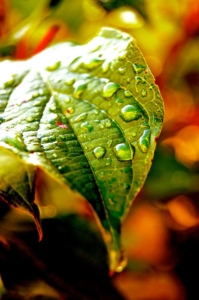 Even if you tell the rain to stay away on the day of your AC Paintball game, it doesn't always listen. When this happens, you have to figure out how to adjust your game so you can help lead your team to victory. If you are fairly new to paintball, this task can seem overwhelming, especially if you haven't mastered playing on a sunny day.
Unless you have serious concerns, though, a little rain shouldn't keep you from playing. By doing some research beforehand, the rain can actually help level the playing field for beginners playing against more experienced players. If you need some tips for adjusting your strategy for a rainy day in southern New Jersey, AC Paintball is here to help!
Wear the Right Clothing
Believe it or not, choosing the right clothes is part of strategizing. When you choose the right clothing and equipment, you can have an advantage over those who fail to plan. For rainy days you will want shoes that provide good traction. Sneakers are a popular choice. You may also want to wear something that will not soak up water, like a poncho or rain jacket. Check out the blog post below for more tips on preparing for a rainy day at AC Paintball.
Move Slowly
AC Paintball cares about our customers and their safety. With this in mind, you will want to take extra care when moving about the field. The ground gets slippery when wet, especially in spots with paint splatters. If you follow the clothing tips above, you should have a decent advantage over those who fail to prepare.
Mobility is a key factor to success in paintball. If you can move around well, you can sneak up on opponents and dive behind bunkers more easily. Also, be aware that you may slide when diving behind a bunker. You don't want to misjudge your momentum and get hurt or hit by an opponent. If you can learn to adjust to the terrain well, you will gain an advantage over many of the other players.
Get Closer to Your Opponents
When the rain gets on or inside your mask, it can be difficult to see. Getting water in your gun will also change how the paintballs leave your barrel and fly. Both of these factors will affect your ability to hit your target. The best way to ensure accuracy is to get closer to your opponent. This way you can see them better and the paintball will have less time to be affected by the elements. Also, be prepared for the rain to make a more intense, yet comical game.
Stay Close to Your Team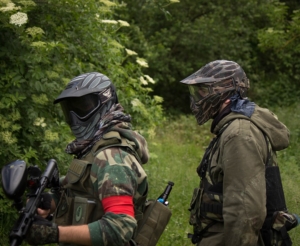 Not only will you want to stay close to your opponents, but you will want to stay close to your team as well. On at sunny day at AC Paintball, some players prefer to spread out so they can cover more ground. However, when it rains, takes more time to get to your teammates if they need backup. Therefore, it is smart to stay close when it rains so you can keep an eye out for each other. Just don't stand so close that you become an easier target for opponents.
Use Bunkers More Often
When it is a sunny day at AC Paintball, it is advantageous to move around more. If you don't move around it is easier for opponents to take you out. However, in the rain moving around provides more chances to get hurt. While you don't want to avoid moving at all, you may choose to move around less than usual. Be patient and let your opponents move towards you. When they come into view they will have to adjust their aim to hit you while you can adjust ahead of time and hit them first.
Stay Confident
Finally, stay confident. Many AC Paintball players do not care for rainy paintball because it is more difficult to move, see, and aim. The key is not to let the weather discourage you. If you let the rain be a problem, it will be. However, if you stay positive and welcome the challenge, you will find it much easier to succeed.