Tips for Choosing Paintball Goggles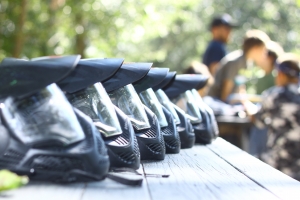 When choosing gear for a paintball game, many players focus on choosing the right marker. While the marker is one of the most important choices to make, you should think carefully about your mask or goggle choice as well. After all, the mask does protect your eyes and the rest of your face. Protecting your face is more important than hitting your target. 
Safety is a primary concern at AC Paintball. It is important to keep your mask on at all times while there is a game being played on the field. With this in mind, you want to make sure that you choose the right mask. That is why AC Paintball in Williamstown, New Jersey has compiled this list of tips for choosing the right goggles.
Price
Price is always something to consider when buying anything. Sometimes the price carries a lot of weight in your decision and other times it is less of a priority. When it comes to paintball goggles, the price should not be too much of a concern. You will want a priority mask that will protect your face when paintballs are flying towards you at high speeds.
Comfort
Unlike price, comfort should be high on your priority list, especially since you will be wearing it for the majority of your four-hour paintball session at AC Paintball. Here are some aspects you will want to consider when thinking about comfort.
Cushioning– Some masks use foam and others just use a rubber gasket. Think about how often you play at AC Paintball and how important being comfortable is you and choose wisely.
Weight– If your mask is heavy, it can take a toll on your neck after a while. You want to focus on hitting your target and not how much your neck is aching. If other aspects aren't as important to you, definitely consider a lightweight mask.
Fit– Think about how secure the goggles are to your head. Are they tight to your face or do they feel like they may fall down? Some brands have silicone beads on the strap to hold the sizing slider in place so the mask doesn't continually loosen and start to slip off your face.
When you have a comfortable mask, you can focus your game and be your best.
Lenses and Frames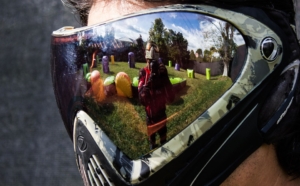 There are many different types of goggles on the market. Each one provides a different view and various advantages. Lenses come in various sizes and can give you a wider or taller view. Some lenses are flat while others are curved. Some goggles have anti-fog lenses and others provide enough room for you to wear glasses under your mask.
There are also different levels of coverage. Some just cover the face, others also cover the ears, and some come with a visor. Many AC Paintball beginners prefer a mask with more coverage. You should think about what features are most important to you and choose a mask that best matches those preferences.
Durability
When paintballs are hitting you at high speeds, you want a mask that can stand up against that force without breaking. If you plan on playing at AC Paintball fairly often, you mask will also experience wear and tear over time. When choosing a pair of goggles pay attention to the material it is made of. The more durable mask you choose, the longer it will last.
Aesthetics
Aesthetics are usually low on the priority list, but it is still an aspect you will want to consider. Think about what type of game you plan on playing at AC Paintball. If you are going to play woodsball, you will want to choose a mask that is either camouflaged or a dark color. This way you won't stick out when you are trying to hide. If you are playing speedball you have more freedom something bright and flashy that you can show off to your friends.
AC Paintball's Rentals
If you don't plan on playing paintball that often, AC Paintball offers two different mask models for rent. The first is Tippmann brand and provides a visor to help block the sun from getting in your eyes. The other is Valken brand and does not have a visor, but may give you more range of vision. If you have any questions or need help choosing the right equipment, a member of the AC Paintball staff would be happy to help you.