Tips to Help You Predict Your Opponent's Plans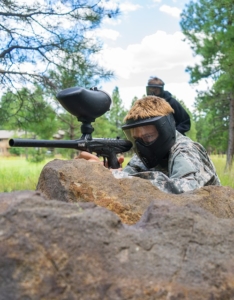 What is one of the best ways to gain the upper hand on your opponents? If you can predict what they are planning ahead of time, you can figure out a way to turn the game in your favor. You can avoid their ambushes, you can corner them, you can stop their runner before they capture the flag, and much more.
Strategizing is a large part of paintball. If you can outthink your opponents, you can greatly improve your chances of winning. If you want to learn some tips and tricks to figure out what your opponents are planning, AC Paintball in southern New Jersey is here to help.
Think About What You Would Do In Their Situation
Put yourself in your opponent's shoes. If you were in the same situation as they are, think about what you would do. Many times, what you would do is also what they are thinking about doing. Once you have an idea of what moves they may pull, or what strategy they will use, you can figure out how to reverse their plan to work in your favor.
For instance, if they see that you are waiting for them to come out from behind a bunker, they may decide to just stay behind the bunker so they are safe. However, you can gain the upper hand by signaling a teammate to go around behind so that the opponent is surrounded.
Pay Attention to What They Do In Other Games
People have habits, even when it comes to sports. Chances are if you notice a player doing something multiple times in one AC Paintball game, they will continue to do the same in other games. Use this information to your advantage.
For instance, if you are playing on one of AC Paintball's wooded course and you can't find them during the game, they may think they found a good hiding spot. They may continue to use that same spot until it stops working for them. If you can figure out where that spot is and surround them, you can force them to change their plans and put them on the run.
Watch Them From A Safe Place
Sometimes when you are moving around and constantly watching your back, you don't have the focus or mind frame to try and figure out what your opponents are planning. If you are playing on one of AC Paintballs speedball fields, you may not be able to find a safe place to stop for a minute and observe. However, if you are playing on one of AC Paintball's larger woodsball fields, you may have time to do so.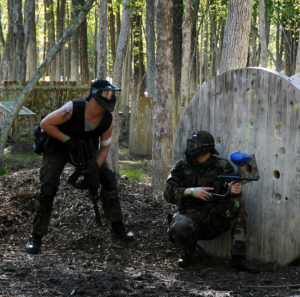 Observe things like their body language, how fast they are moving, and what direction they are moving. Do your best to figure out what they are doing. If you can easily eliminate them and you feel it is the best option, do so. If not, communicate with the rest of your team so they can decide what the next step should be. Just be careful not to stay in the same spot for too long. If one of your opponents is watching you, they may also be forming a plan to surround and eliminate you.
Watch the AC Paintball Game Marshall
An AC Paintball game marshall's job is to fairly judge the game. This means getting closer to the action to get a better view. Knowing this can actually help you during your AC Paintball game. AC Paintball refs have seen many games and know how to observe patterns. They are fairly accurate at predicting when someone is going to fire. Therefore, if you watch the marshall, you may be able to tell what your opponents are up to. If a marshall comes near you during a game and you don't notice opponents in the area, you may want to take a second look around.
Stay On Your Toes and Be Ready To Adapt
If your opponents put you in a tricky situation, you need to be ready to adapt. What you predict their actions will be, will not always turn out to be 100% accurate. Sometimes they will take the upper hand and put you on the run. However, you can combat this type of issue by improving your ability to think on your feet and adapt. The better you get at this skill, the better your chances will be of staying in the game.
Capitalize on Unexpected Advantages
Don't be afraid to capitalize on unexpected advantages. While you want to keep the game honest and fair, you will also want to give your team the advantage whenever you can. Luck and chance are part of the game. If you don't take advantage of certain situations, you may not give your team the game turning point they are looking for. Taking chances can be the difference between a win and a loss. However, if you are still concerned about unfair tricks, discuss the rules with everyone before your AC Paintball game. This way everyone can be on the same page.