AC Paintball Gift Certificates
These AC Paintball Gift Certificates are perfect for the paintball lover in your life. We have developed a wide range of certificates suitable for a first timer looking to experiment with paintball or a long time vet who might want to play all year long.
Our certificates are easy and safe to order. We are a Paypal Verified Vendor. All you need to do is select the certificate that is right for you, order through paypal, and you'll receive your certificate via email! Your voucher will have a unique identifying number that will connect the certificate with both you and the recipient of the gift.
Your gift certificate will arrive in your email inbox looking similar to the image below, allowing you to print it out and deliver it to the gift receipient (you can also forward the email on to them for their printing purposes):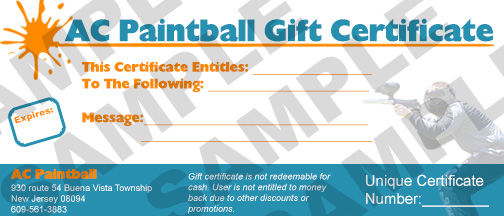 All that's left to do is decide which certificate is right for you! Browse the options below, fill out the required fields, and follow the steps to order.
| | |
| --- | --- |
| Morning Paintball Package | Afternoon Paintball Package |
| Includes: morning field pass (9am-12noon), complete rental gear package, unlimited compressed air, 200 tournament grade paintballs. | Includes: afternoon field pass (12noon-4pm), complete rental gear package, unlimited compressed air, 200 tournament grade paintballs. |
| Cost: $39.95 | Cost: $49.95 |
| | |
| | |
| Morning Party Pack | Afternoon Party Pack |
| Includes: morning field pass (9am-12noon), complete rental gear package, unlimited compressed air, 200 tournament grade paintballs for up to 11 players. For additional players beyond 11 – add $39.95 per player. | Includes: afternoon field pass (12noon-4pm), complete rental gear package, unlimited compressed air, 200 tournament grade paintballs for up to 11 players. For additional players beyond 11 – add $49.95 per player. |
| Cost: $399.00 | Cost: $499.00 |
| | |
| | |
| One Year Club Membership | |
| Entitles members to case pricing on field paint, 10% off all field admissions (except group rates) and 5% off all Pro shop purchases | |
| Cost: $29.95 | |
| | |