Thank you for your interest in AC Paintball. Our history is rather unique, so we'd like to share a little bit of it with you and tell you how we intend to provide an excellent paintball experience!
Our History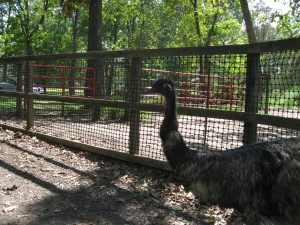 AC Paintball is located in beautiful Buena Vista Township. Attorney Bill Hayes made this area his home decades ago, and still lives and practices there. A man of diverse interests, Bill decided some years ago to purchase a plot of Buena Vista land and develop an Emu farm. The goal was to give his children a unique and interesting way to develop their sense of responsibility and management skills. He was also able to profit from the breeding aspects of the farm. Soon his Emu outfit became well known across the country as one of the largest and highest quality facilities of it's kind.
Once his children grew Bill decided to continue on with Emu ownership, but eventually his desire to operate it as a full business wained. He realized he had a large plot of land, well kept and cultivated, but without any true purpose for it.
Through his own personal interests and discussions with friends he quickly realized that the area was ripe for paintball. The natural beauty, sectional organization, and diverse landscape made it an ideal match of concept and opportunity.
Our Paintball
We are in a constant state of progress and improvement as we develop our paintball offerings. There are still a handful of Emu that live on the property, but they are relegated to a special area where visitors can view them, but not interact with them. Emu will never appear on the paintball fields.
Our goal is to offer an initial set of four forest fields as well as special barrel and hyperball fields. In time we intend to create more and more opportunities for visitors to enjoy paintball action.
Our facility comes with rental equipment, a clubhouse to relax in, and transportation to further fields.