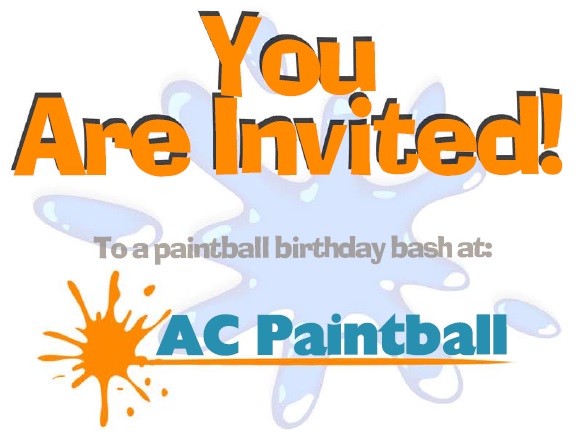 A great birthday party is filled with fun, action, and excitement in a safe environment. AC Paintball can provide all that and more. Kids of all ages (including adults) love our diverse fields, obstacles, and variety of games. Parents love the affordable price and lack of micromanagement needed for a successful party (anyone who has had to clean up a party at their house can attest to this).
We offer a range of fields that include smaller hyperball and speedball fields as well as larger woods fields. We can accommodate groups of almost any size, ranging from a half dozen to a couple hundred participants.
Why Choose AC Paintball For Your Birthday?
We are a "safety first" facility. We closely monitor the speed at which our markers (guns) can fire and require proper safety equipment for every participant. We provide a full host of rental equipment that meets industry standards and insures players are having fun and not getting hurt.
Our courses are closely monitored and feature well trained referees. We also utilize a player clubhouse for cake cutting and relaxing in-between games.
Let Us Help You Build a Great Party
Our goal is to help you build the ideal birthday party event. If you have special ideas for games you'd like to play or ways to organize the event we will work with you.
If you'd like to learn more about the cost of day passes and rental equipment, consult our pricing guide. If you can supply a party of 11 players we will allow the birthday boy/girl to play for free (waived Package fee).
Print out ready-to-go waivers for your guests here:
Waiver in PDF Format
Waiver in Microsoft Word Format
Print out birthday invitation cards here:
AC Paintball Birthday Card in PDF
AC Paintball Birthday Card in Microsoft Word
Quick Notes on Cost
We offer individual packages as well as group party rates. Any individual player that purchases a Morning Package ($29.95), Afternoon Package ($39.95) or All Day Flex Package ($49.95) is entitled to complimentary rental gear if needed. Our party plans include rental gear as well. However, we require all players purchase paintballs on-site to ensure consistency and quality. Paintball pricing is as follows:
200 Paintballs: $9.95
500 Paintballs: $19.95
Case price (2000) available to ACPaintball Club Members ONLY: $49.95
Case price (2000) w/o ACPaintball Club Membership: $65.42
Schedule Your Party Today
If you have any questions or would like to move forward with scheduling a birthday party, use the contact form below and we'll get to work with you: