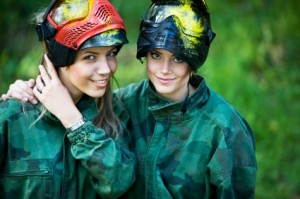 Paintball is far from a "boys club". We've had many fun and exciting bachelorette parties at AC Paintball and we want to you to join us as well!
Thanks to our high safety standards and field variety bachelorettes love to come to our facilities and have a blast. Shooting friends never gets old. Group size can vary from just a handful of ladies to a full group of players. We have rental guns, helmets, and other safety equipment on hand for players who may not own their own gear. Since we have multiple fields, the bachelorette party can reserve a private play area or mix it up with other groups.
Our facilities come ready with a clubhouse in case groups want to take a break, relax, serve cake and snacks…whatever you want! It should be noted that AC Paintball is an alcohol-free establishment, so no alcohol can be served on the premises and visibly intoxicated persons may not be allowed on the playing fields (safety and liability reasons).
We want to help make your bachelorette party experience memorable, so we'll do whatever we can to help you create a great day.
The Bachelorette Plays Free
If you can supply a party of 11 players we will allow the bachelorette to play for free (waived Package fee).
Quick Notes on Cost
We offer individual packages as well as group party rates. Any individual player that purchases a Morning Package ($29.95),  Afternoon Package ($39.95) or All Day Flex Package ($49.95) is entitled to complimentary rental gear if needed. Our party plans include rental gear as well. However, we require all players purchase paintballs on-site to ensure consistency and quality. Paintball pricing is as follows:
200 Paintballs: $9.95
500 Paintballs: $19.95
Case price (2000) available to ACPaintball Club Members ONLY: $49.95
Case price (2000) w/o ACPaintball Club Membership: $65.42
Try a Bachelor vs Bachelorette Party
Why not add to the thrill and challenge a bachelor party? We can arrange to match your party up against your significant other or a random bachelor party that happens to be scheduled for the same day. Meet new people and shoot them with paint!
Schedule a Bachelorette Party Today!
We'd love to discuss your bachelorette party needs with you. Use the form below to give us some basic information and we'll get in touch to start the scheduling process or answer your questions.