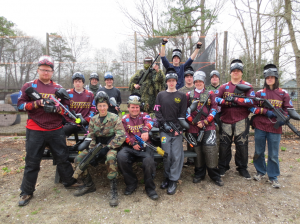 Paintballing makes for an awesome bachelor party. It's high action, high intensity, tons of fun, and a great chance for a large group of friends to get together and have a blast. AC Paintball is proud to offer paintball bachelor party services.
Bachelor parties can range from just a handful of friends to a full platoon of players. We have the appropriate fields to accommodate parties of almost any size. We offer smaller hyperball and speedball fields for tournament style play, perfect for groups ranging from 5-20 players per side. We also offer multiple forest fields which can handle hundreds of players at a time.
Our facilities come ready with a clubhouse in case groups want to take a break, relax, serve cake and snacks…whatever you want! It should be noted that AC Paintball is an alcohol-free establishment, so no alcohol can be served on the premises and visibly intoxicated persons may not be allowed on the playing fields (safety and liability reasons).
We want to help make your bachelor party experience memorable, so we'll do whatever we can to help you create a great day. Check out this video for a sneak peek at what we offer:
The Bachelor Plays Free
If you can supply a party of 11 players we will allow the bachelor to play for free (waived Package fee).
Quick Notes on Cost
Ready to Schedule a Party?
Use the form below to start the scheduling process. All information and payment will be collected using our secure online order form. If you have any questions, don't hesitate to call us at 609-561-3883.